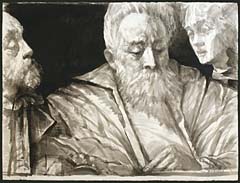 Voices

Polonsky's imagery is a constant tension between the figurative and abstract, between realism and fantasy, between light and darkness, in a symbolic as well as an artistic sense. Both his landscapes and his figurative works have a mystical, emotional resonance, often going beyond the reality of the scene or figure to express a spiritual, other-worldly, sometimes haunted state. Among figurative painters, Polonsky is an authentic visionary. His paintings are expressive of an inner reality, and trance-like, allow us to see beyond the real world of our ordinary experience.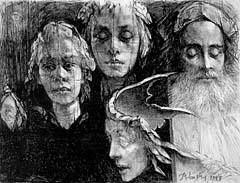 Clay Silence

Arthur Polonsky has exhibited widely, in the United States and abroad. He has had numerous solo exhibitions and retrospectives, including several at the Wiggin Gallery of the Boston Public Library, and at the Museum of Fine Arts in Boston, The Fitchburg Art Museum, Clark University in Worcester, The Art Complex Museum in Duxbury, Brandeis University in Waltham, the Mickelson Gallery, Washington, D.C., the Durlacher Gallery, New York, The Boris Mirski Gallery, Boston, MA, and The Art Complex Museum and the Bumpus Gallery in Duxbury, MA.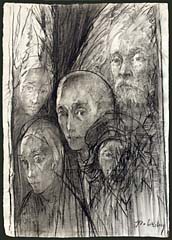 Faces in a Dream

He has participated in major group exhibitions, including at The Stedelijk Museum in Amsterdam, The Salon des Jeunes Peintres, in Paris, The Palais Universitaire de Strasbourg, the Metropolitan Museum in New York, and the Museum of Fine Arts in Boston, the Fogg Museum, Harvard University, The Springfield Museum, Springfield, MA, and at the Institute of Contemporary Art, Boston. His work was included in important retrospective exhibits this past Fall at The DeCordova Museum and at the Boston University Art Gallery, as well as in a 'then and now' exhibit at Francesca Anderson Gallery in Lexington of painters who had exhibited at The Shore Gallery (closed since 1962) in Boston.

Mr. Polonsky's works are in many public collections, including The White House in Washington, D.C., The Addison Gallery of American Art in Andover, The Boston Public Library, The Museum of Fine Arts in Boston, The New York Public Library, The Walker Art Center in Minneapolis, The Fogg Museum of Harvard University, The Library of Congress, The Stedelijk Museum in Amsterdam, The Rose Art Museum, Brandeis University, the Zimmerli Museum at Rutgers University, and The Brockton Art Museum, Brockton, MA. He is also represented in many distinguished private collections.