Slide Show
Gallery
Contact Us

3 Special
Buying
Opportunities!

Artists
Albert Alcalay
Wendy Artin
DerHohannesian
Distant Lens
Ruth Eckstein
Rubin Gold
Dinora Justice
Ivan Massar
Anne Mastrangelo
Helen Meyrowitz
Elliot Offner
Jonathan Palmer
Miklos Pogany
Arthur Polonsky
Eleanor Rubin
Sloat Shaw
!
Garabed DerHohannesian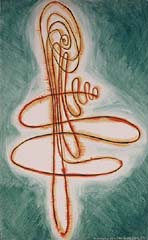 #58
One of Bostonís acclaimed artists, from the early 1940ís through the 1980ís, Garabed DerHohannesian is happily rediscovered in the June 2003 exhibit at Kantar Fine Arts, a contemporary art gallery in Newton. An artist who was born in Brookline and lived in Newton throughout his adult life, DerHohannesian began teaching basic design at the Rhode Island School of Design in 1947, became Professor of Design in 1957, then Chairman of the Division of Foundation Studies in 1956, a position which he held until his retirement in 1973.
#16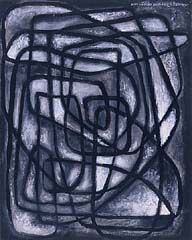 #11
As a painter, Mr. DerHohannesian brought to his own work a superb sense of design, of structure and balance, using color, line, light, or form. Although he felt a firm connection to and inspiration from his environment, DerHohannesian expressed this by creatively exploring the design relationships of geometric shapes, color balance, and seemingly meandering line. His work ranged from pure abstraction, using color or line in dynamic juxtaposition, to suggestions of reality that, with geometric patterns, shaded tonalities and textures gave an optical illusion of three-dimensional space. Or, with meticulous pen and ink drawing and wash, DerHohannesian would invent organic forms, or suggest a hidden marsh landscape, veiled in fog.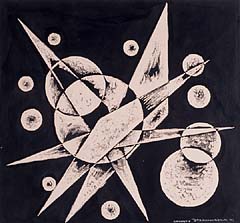 #33
There is a vibrancy and dynamic in DerHohannesianís compositions, carefully controlled by a formality of design skill, but always a great enjoyment and zest in the complexity of shapes, in tilting blocks of color, in complex line patterns, or webs and vistas of space created by his forms and line.