In Sloat Shaw's paintings in her main body of work, The Flood Series (oil paintings on canvas, board, or paper), we journey through ancient, primal landscapes that evoke passage along chasms, along deep lakes, past waterfalls, midst flood, whirling mists and streaming light.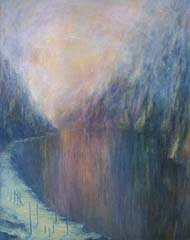 After the Flood: Day 7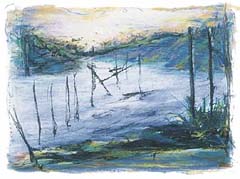 Sticks Dancing in the Bay
A group of sticks is always part of these landscapes, emerging from the vast space, or entering it, guideposts perhaps or representations of individuals seeking their way.
Her works on paper - lithographs, woodcuts, linocuts - in contrast, are often whimsical animal or bird images that have 'attitude' as well as outstanding artistic design.