KANTAR FINE ARTS presents the artist, RUBIN GOLD, in a retrospective exhibition.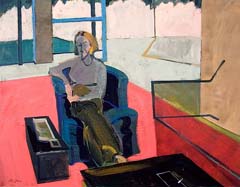 Room with a View

Rubin Gold made a significant impact on the art scene of New England through the 1970's and 1980's. A contemporary expressionist painter, whose landscapes and figure-based oils created an emotional, psychologically powerful effect; Gold used color, spatial composition, and brushwork to give structure and energy to his paintings. "Essentially, I am a figurative painter working from my surroundings, developing ideas and interpreting them into a personal statement by means of color as form," Gold commented upon his creative process. Often, Gold's portraits border on the abstract, almost a deconstruction of the actual image, yet through color, composition, and gestural brushwork, the artist draws out the inner personality and circumstance of the subject.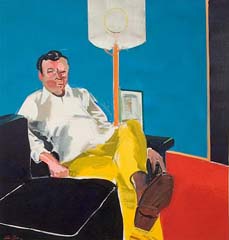 The Black Couch

Robert Taylor, the former esteemed art critic of the Boston Globe, noted that Gold's portraits "with their effaced, generalized shapes, suggest something of the dissolution of traditional concepts of identity, accepted forms melting into a realm of uncertainty and change." (Boston Sunday Globe, 6/1/75). In an earlier comment, Taylor speaks of Gold's "Expressionist abbreviation of natural shapes. His figure paintings...are notable for conveying character without literal detail." (Boston Globe, 1/17/74).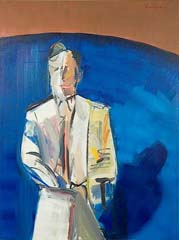 Traveler

The Art Complex in Duxbury included Rubin Gold's portraits and landscapes in an exhibit in the summer of 1984. Art critic Virginia Freyermuth of The Patriot Ledger points to the artist's manipulation of space, and placement of objects in settings as "crucial to the way the viewer reads the implications of mood and personality....Gold's spaces are often large and unsettling. ..He uses his surroundings as a point of departure, always searching for the gestural quality that defines an attitude or state of mind." Similarly, Freyermuth notes that "Color becomes a variable for Gold. He alters the color of an object or person, for emotional or compositional reasons, rather than altering the value" (The Patriot Ledger, 8/4/1984).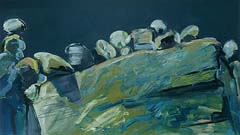 Blue Boulder

Gold's work has been welcomed in exhibits throughout Massachusetts, Rhode Island, Vermont and New York. He exhibited in an invitational one person show at the Art Complex Museum in Duxbury, MA, and also at the Boston Psychoanalytic Society in
Boston. He participated in many exhibits, including at the Montserrat School of Vision (now Montserrat College of Art), in Peabody, MA, at the Rhode Island School of Design in Providence, R.I., at Ward-Nasse Gallery in New York City, and the Marlboro Art Gallery in Marlboro, VT.