Helen Meyrowitz
Excerpted quotes from The New York Times and other publications: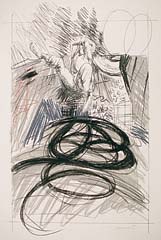 Landscape Tumbler #2

"Helen Meyrowitz's "Drawings 1970-2000" is a full, eclectic and marvelous retrospective of a working artist's life progression and achievement....Even with Meyrowitz's range of subjects, a theme of self-reflection and identification continually appears....Helen Meyrowitz delves into some extremely provocative and fascinating subjects in her numerous drawings.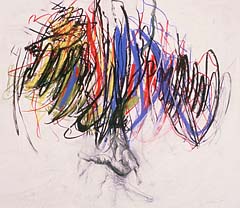 Tumbler #6

"...In variations on her longstanding theme of tumbling figures, Ms. Meyrowitz also refers to past at and combines it with contemporary imagery. Flying forms abstracted from the work of predecessors like Tiepolo, Rembrandt and Leonard Baskin interact with an acrobatic modern woman to create an imaginary dialogue in which symbolism converses with actuality. It appears that the real subject of Ms. Meyrowitz' work is the mind's ability to transcend the body and metaphorically fly on fantasy's wings." (Helen A. Harrison, NYT, 4/25/1999)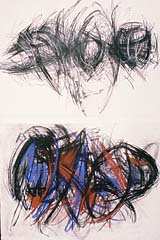 Tumbler11, Comp.#7

"Among the artists who combine technical skill with representational content, Helen Meyrowitz stands out for her lively drawing..." (Helen A. Harrison, NYT, 12/21/97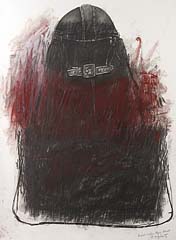 British Leather Flying Helmet

"In an exhibition career that extends over three decades, Ms. Meyrowitz has introduced a number of original approaches to figurative work. Most paintings and drawings have been crisp, exactingly edited and have used fairly radical high impact divisions of space to add to their considerable effect....The lush, spirited agitation of the artist's new drawings – many juxtapose a tumbling body with a loosely rendered landscape interpretation – are a daring, imaginative departure. The action of falling is accented by the action of the sketchy strokes...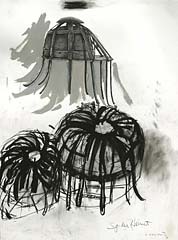 Spider Helmet

Subjects are not heroic, but are flexible, ambiguous weights, capable of unexpected positions. They offer a revised consciousness of the human body. There is no specific narrative, but one wonders if something is driving figures to their tumbling positions and if their settings have emotional significance..." (Phyllis Braff, NYT, 12/19/93)