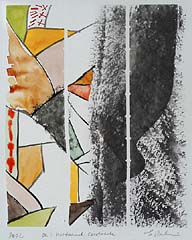 Nocturnal Cantabile
Noted Boston artist Eleanor Rubin has worked primarily with woodcut and watercolor for over thirty years. Her work is a delicate balance of line and form, subtly accented with tones of color, shadow and light, in an expressive evocation of inner feeling and appreciation of the outside world. Often printed on Japanese Mulberry paper, her woodcuts are strongly influenced by Japanese prints. Matisseís influence is seen in Rubinís frequent use of stencil and collage; and the contrapuntal nature of line, color and form on a two-dimensional surface are reminiscent of the work of Paul Klee.
All these qualities are evident in her recent large body of work, Transformations: Sound into Image, a visual response, with woodcuts and watercolors, to the music of Hikari Oe, a composer with autism. Ms. Rubin is a graduate of Brandeis University, and has a Masters in Education from Harvard University. In deciding to be an artist, herself, she studied with Paul Wieghardt, a painter who was himself a student of Paul Klee and a graduate of the Bauhaus. She was also a student of Marian Parry, watercolorist, at the Radcliffe Institute.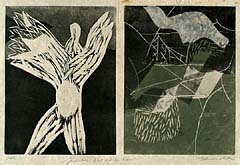 Fluctuations: What Did He Hear?