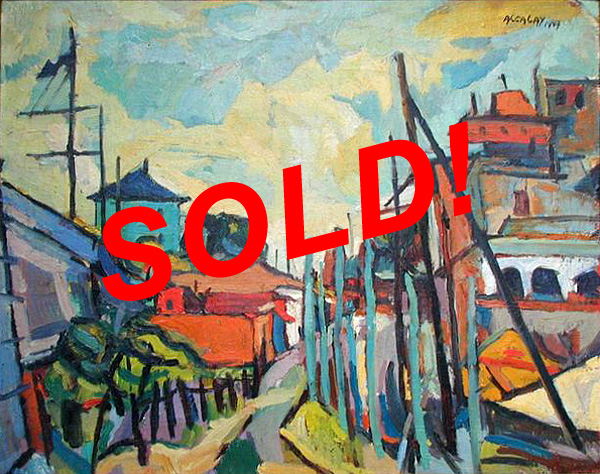 Via Pietro Tacchini, Roma ,"Paesaggio", 1947
oil on canvas, 6/6 (possibly refers to the number of paintings of this scene),
19.25" x 15.5"
Albert Alcalay (1917-2008)
A strong perspective, diagonal walls and roadside fences, leads us through this town on Via Pietro Tacchini. Our eye is drawn from the foreground back to the white building in the middledistance, then back into space by the soaring cream clouds on blue sky. Our path through the painting is 'stabilized,' along the way, by the horizontals, often accentuated by black lines, demarking roof tops as we proceed through this crowded section of town. Once again, the bold staccato lines, strong diagonals, geometric shapes, and strong color provide an energy that is then carried out further in the romantic movement of the sky. This is a fine example of Albert Alcalay's early expressionist paintings, before coming to the U.S.

Price: On request
(Regular Program Continued Here)