Slide Show
Gallery
Contact Us

3 Special
Buying
Opportunities!

Artists
Albert Alcalay
Wendy Artin
DerHohannesian
Distant Lens
Ruth Eckstein
Rubin Gold
Dinora Justice
Ivan Massar
Anne Mastrangelo
Helen Meyrowitz
Elliot Offner
Jonathan Palmer
Miklos Pogany
Arthur Polonsky
Eleanor Rubin
Sloat Shaw
!
Albert Alcalay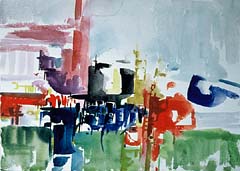 Untitled
The decades since his arrival in the US have been replete with major exhibits and awards. Albert Alcalay has exhibited at major art museums, including the Institute of Contemporary Art, in Boston, at the DeCordova Museum, at the Carpenter Center for the Visual Arts, at Harvard University, The Museum of Modern Art, New York City, at the Whitney Museum of American Art, the Corcoran Gallery in Washington, D.C., and the American Academy of Arts and Letters in New York City. He has also shown his work at galleries throughout the United States, and in South Africa, Venice, Rome, Canada, and Vienna. Alcalay received a Guggenheim Fellowship in 1959, and the Boston Arts Festival Prize, as well as the New Talents-Art in America Prize in the same year.
Albert Alcalay is represented in the collections of many prestigious institutions, including the Museum of Modern Art (NY), the Fogg Art Museum at Harvard University, the University of Rome, the Galleria Nazionale dell'Arte Moderna (Rome), the Addison Gallery of American Art (Andover, MA), the collection of the Boston Public Library, the De Cordova Museum (Lincoln, MA), Rose Art Museum, University of MA, Smith College, Colby College, and in numerous private collections in the United States and abroad.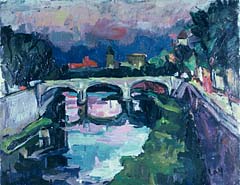 Sunset Over the Tiber
Alcalay has been critically acclaimed by many outstanding reviewers and writers. These include Dorothy Adlow, Rudolf Arnheim, Marcello Camilluci, John Canaday, Robert Gardner, Virgilio Guzzi, Ann Jencks, Howard Mumford Jones, Gyorgy Kepes, Oskar Kokoschka, Carlo Levi, Romeo Luchese, Robert Taylor and Frederick Walkey.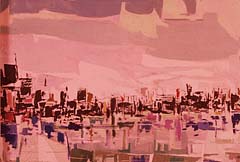 Black City
Albert Alcalay lives in Brookline, MA. Though dealing with the effects of loss of vision and other physical ailments, at the age of 86, he is still painting, still teaching, and still thoroughly enjoying life.